Lowest cost
Our refurbishment services are cheaper than buying new from the manufacturer and cheaper than regrind facilities with less down time and quicker time to service.
Least effort
We come to you to perform all services, typically within two weeks. We can get you up and running within one production shift per machine for typical repairs.
Reliable service
We have serviced and installed hundreds of ball screws at manufacturer's facilities to correct linear motion issues and understand each machine has its own set of challenges.
Services
We are specialists in on-site repair and refurbishment of Anderson America Router linear motion systems including ball screw assemblies and linear way guides. During a consultation over the phone we will troubleshoot your issue and follow up with a service request with travel and work estimates. Multiple machines may be discounted as well as travel shared with neighboring facilities if scheduled down time is flexible. We can come out and inspect your equipment within 3 business days in emergency situations.
Basic Services Include:
Ball Screw Repair and Refurbishment
Ball Screw Installation and Removal
Ball Screw End Bearing Replacement
Linear Way Guide Rail Installation
Linear Way Guide Block Repair and Refurbishment
Clean, Flush, and Lube Service
Free Inspections
We can perform inspections and service of linear motion systems in a variety of configurations including any of the following:
Anderson America
Service Notes
Anderson America
CNC Routers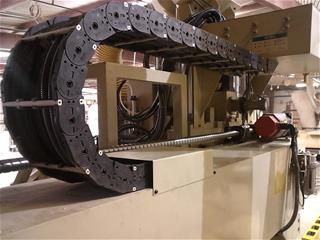 This is the top mounted Y-Axis ball screw for an Anderson Router. This model was without a protective top cover, exposing the entire Y-Axis motion system to debris and sawdust. This, when mixed with grease or oil coating the screw, gets sucked up inside of the the ball nut. Blocking future lubrication and eventually causing the ball bearings inside to stop rolling and circulating.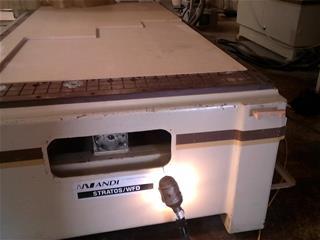 This is the access hole in the machine base where you can access the X-Axis Table Ball Screw. The ball screw needs to be totally removed for refurbishment. Tis is not a simple process.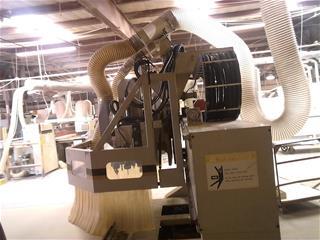 The Anderson Router shown has side mounted Linear Way Guide Rails and Sliders. These often get filled on the top side with sawdust and debris, eventually causing the Y-Axis to no longer slide easily back and forth. It is essential that these components are kept clean, well lubed, yet regularly wiped down.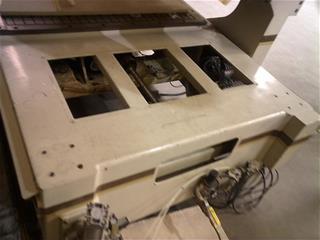 This is the opposite end of the Anderson Router. Here you can access some of the X-Axis ballscrew parts in addition to service and inspect X-Axis Ball screw lubrication.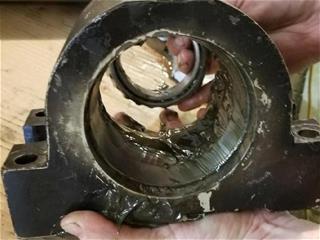 This is the X-Axis rotation bearing housing found underneath the table of and Anderson CNC Router. Inside are replaceable roller bearing rings which allow the ball nut to spin around in one location, moving up and down the ball screw shaft. These parts generally are well lubricated and do not often need replacement.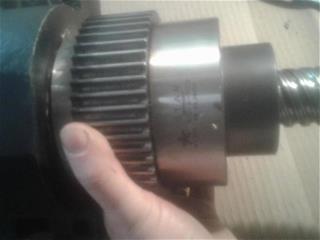 Here the German STAR Ball Screw assembly is being pulled from the rotation bearing mounted in the Anderson Router X-Axis Table Yoke. There is quite a lot of disassembly to reach this point, with still yet more to come. The screw shaft is multiple windings around one rod. The ball nut itself rides on two tracks. This interior ball nut is often contaminated from sawdust and debris. It's lubrication delivery also being passive through the rotation bearing, so when mixed with crud the critical bearing surfaces are often starved for lube.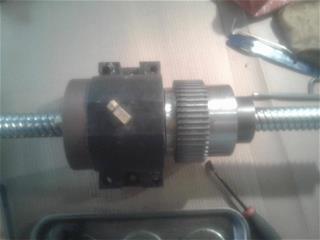 The Entire Ball Screw and Nut assembly taken out from underneath an Anderson CNC Router. The entire component was cleaned prior to disassembly.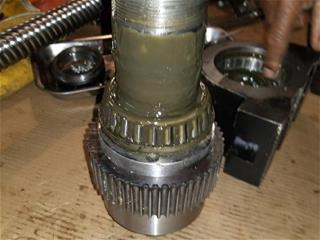 Here is the internal STAR Ball Nut removed from the External Rotation Bearing and Anderson X-Axis Table Yoke Housing. These roller bearings typically are common and relatively easy to find. Notice the greasy and dirty oil covering everything. This is all saw dust media mixed in with the lubrication.